Tourist Attractions in Nigeria – Traveling to Nigeria for the first time? Nigeria is one of the richly blessed countries in the West African region. It is a land of diversity and adventure. The country boasts exotic wildlife, fantastic waterfalls, ancient mountains, and rich history.
With the numerous tourist sites in Nigeria, knowing where to begin your vacation can be challenging. It is for this reason that we have picked the ten regions in Nigeria you should visit.
Here we reveal 20 of the best tourist sites in Nigeria that are a must for your travel itinerary:
Top 20 Popular Tourist Attractions in Nigeria
1. Idanre Hills
Idanre Hills is one of the most popular tourist attractions in Ondo State. Idrane Hills is believed to be around 800 years old. It includes 660 steps, enigmatic footprints, and ancient handwritings on rock.The entry fee to Idanre Hills is N1,000 per person.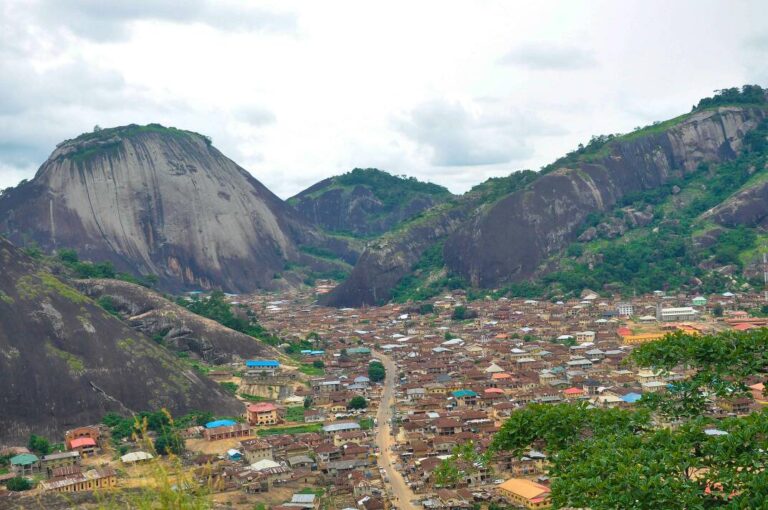 The hill of Idanre is one of the most beautiful natural landscapes in Nigeria. It includes such cultural sites as "Owa's Palace, Shrines, Old Court, Belfry, Agbooogun footprint, thunder water (Omi Apaara) and burial mounds and grounds". It resides 3000 ft(914.4meters) above sea level and houses a unique ecosystem upon which the cultural landscape has integrated. On getting to the entrance of the hill you will see a great tree at the entrance of the ancient city of Idanre called the IRAYE TREE, then you can now get prepared to take the steps to the great city beyond the hills of Idanre.
---
2. Zuma Rock
An igneous intrusion composed of gabbro and granodiorite, Zuma Rock is located in Niger state, Nigeria. Zuma Rock is a very popular landmark in Nigeria. It is 3.1 kilometers in circumference and stands tall at a height of about 725 meters above the surrounding area.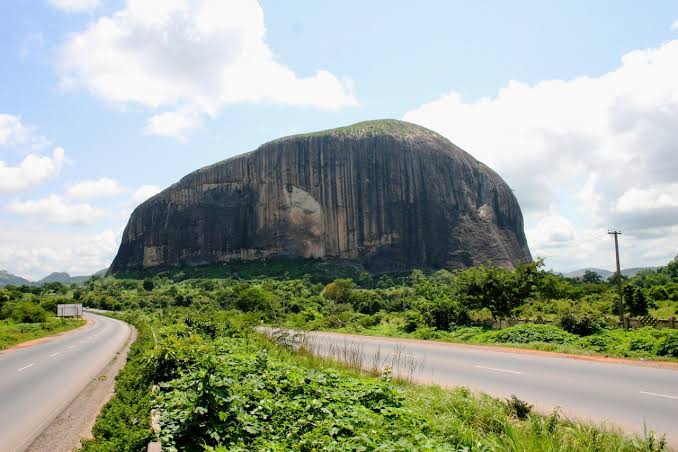 Zuma Rock has contours on the surface which depicts the image of a human with visible mouth, eyes, and nose. Zuma Rock rises approx. 300 metres (980 ft) above its surroundings. Zuma Rock is depicted on the 100 naira note. It was used for a defensive retreat by the Gbagyi people against invading neighbouring tribes during intertribal warring
---
3. Kajuru Castle
Kajuru Castle is located in Kadiri village in southern Kaduna State. It is a luxury villa, built between the years 1981 and 1989. The castle was built by built by a German expatriate in Nigeria, living in Kaduna at the time.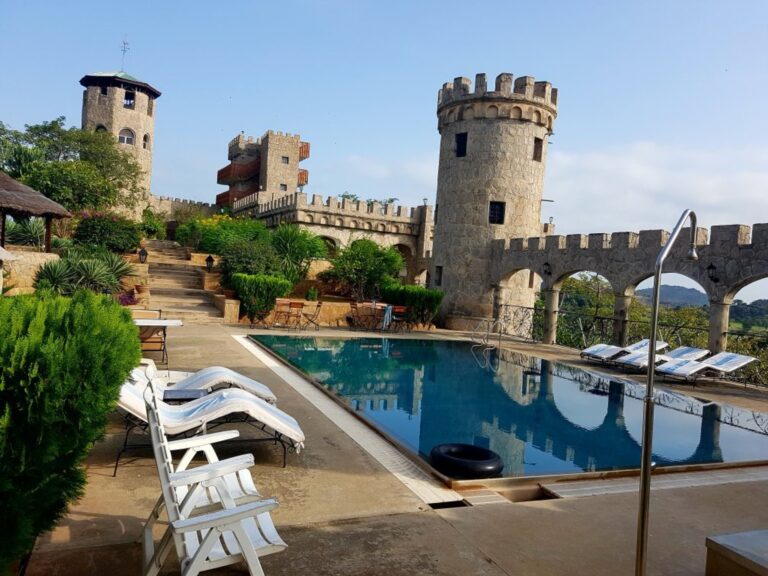 The gorgeous architectural masterpiece of the Kaujru castle is a sight to behold and can contain contain up to 150 guests. The castle is located at about 45 km from Kaduna on a mountaintop in Kajuru (Ajure) village, Kaduna State. Built with 1 meter thick granite stone in a fanciful medieval-inspired Romanesque style, it is adorned with turrets, an armory and a dungeon. The castle is privately owned, and has the capacity to contain 150 guests
---
4. Olumu Rock
This is yet another mountain on our list and it falls in the south-western part of Nigeria, precisely Abeokuta. Back in the 19th century this rock was a refuge during wartime. Exciting features like a water fountain, restaurant, elevator and museum have been added to make the Olomu rock a fun place to visit.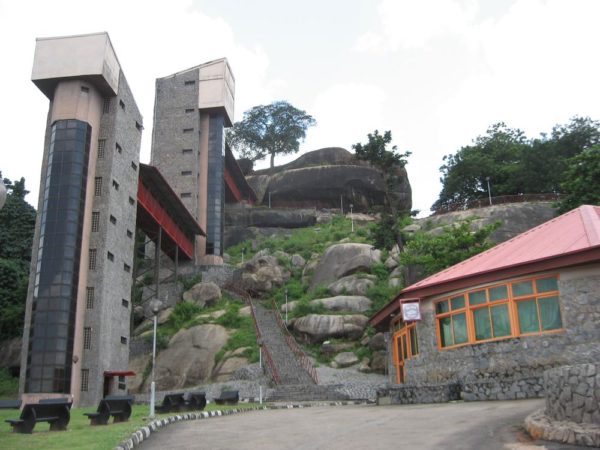 Olumo Rock is located in the ancient city of Abeokuta, Ogun State. Historically, the rock was a natural fortress for the Egbas during inter-tribal warfare in the 19th century. Olumo is a popular tourist attraction. It provided protection to the Egba people when they needed it, and is now held in high esteem by the members of the clan.
The mountain, one of the most popular tourist destinations in Nigeria, sits in the heart of Abeokuta – a name which means "Under the rock" in the Yoruba language; it has a height of 137 metres above sea level. Abeokuta was originally inhabited by the Egbas, who the rock provided with sanctuary and gave a vantage point to monitor the enemy's advance, leading to eventual triumph in war. The town of Abeokuta eventually grew as these new settlers spread out from this location.
5. Gurara Waterfalls
The amazing Gurara Waterfalls is named it after two gods once worshipped by Gwari people: Gura and Rara. The Gurara Waterfalls is a breathtaking spot to enjoy wildlife or go fishing in the Gurara River. Gurara Waterfalls is a tributary of the River Niger.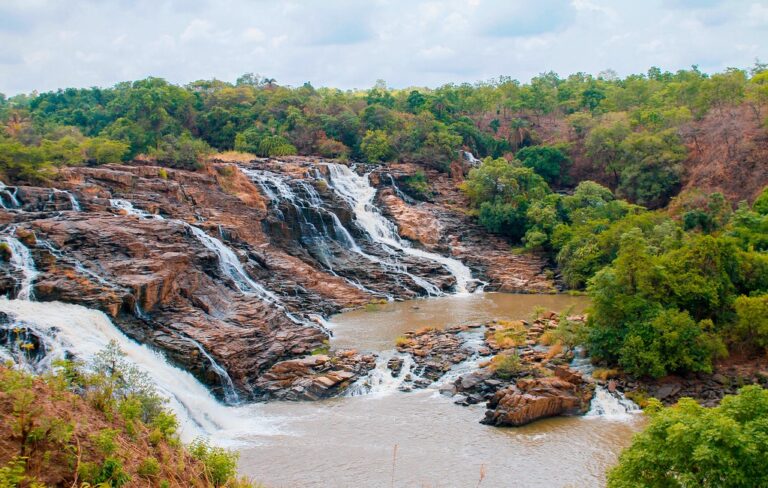 According to oral history, Gurara Waterfalls was discovered by a Gwari hunter called Buba in 1745 before some Europeans discovered it in 1925 after they found it as a recreation centre. Prior to the discovery of the waterfalls by the Europeans, Gurara Waterfalls was worshipped by people living in communities around it. Oral history also has it that Gurara Waterfalls and Gurara River were named after two deities called Gura and Rara
6. Erin Ijesha Waterfalls
As we said, Nigeria is a country that is blessed with fantastic waterfalls. Erin Ijesha Waterfalls, also known as "Olumirin Waterfalls," is a spot to get a close with mother nature. It is located in Osun state. The waterfalls was discovered in 1140 AD by one of the daughters of Oduduwa.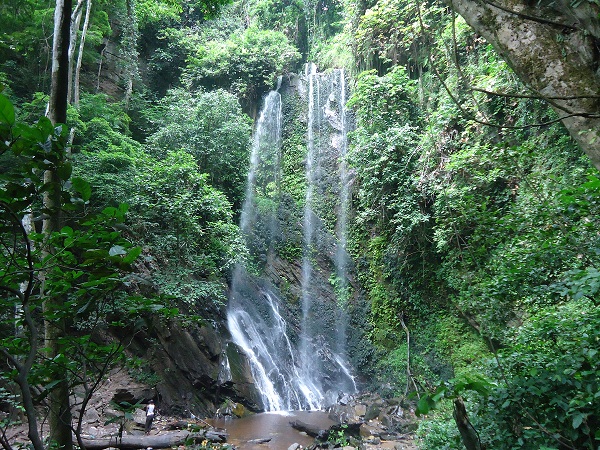 The fall features seven floors, on top of which the village Abake is located. The waterfall is said to have medicinal properties and people came from all over to drink from the waterfall and be healed. The Erin Ijesha Waterfalls is also a popular excursion point for schools around the vicinity
7. Oguta Lake
The Oguta Lake is Nigeria's largest natural lake. It's located in Imo state. Uhamiri is the goddess of the Lake. This is one of the most unique and beautiful places that are present in Nigeria.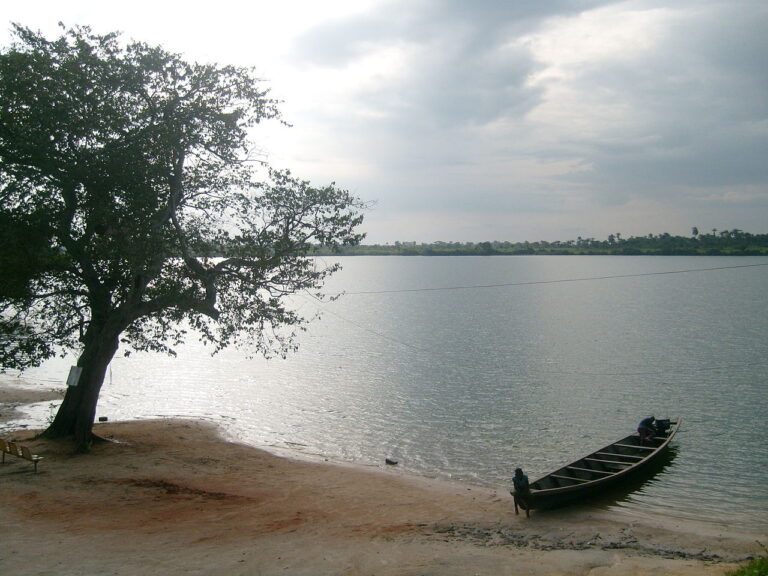 Oguta Lake is a lean 'finger lake' formed by the damming of the lower Njaba River with alluvium. It is the largest natural lake in Imo State, Southeastern Nigeria; within the equatorial rainforest region of Niger Delta. Oguta Lake's catchment area comprises the drainage area of the Njaba River and a part of the River Niger floodplain in the region south of Onitsha
8. Ikogosi Warm Springs
The Ikogosi Warm Spring is located in Ekiti State. The mesmerizing Ikogosi Warm Springs allows you to explore the unique scenery of warm and cold spring flowing side by side to form a confluence, each maintaining its thermal properties. This merging of warm and cold water is the first of its kind in the world. The entry fee to Ikogosi Warm Springs is 500 Naira per person.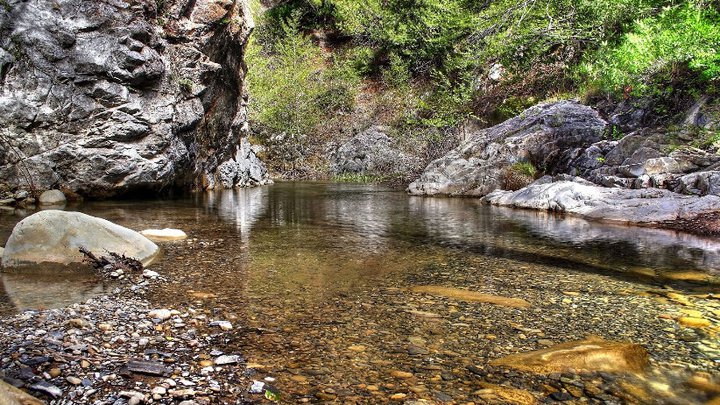 The Ikogosi Warm Springs is a tourist attraction located at Ikogosi, a town in Ekiti State, southwestern Nigeria. Flowing abreast the warm spring is another cold spring which meets the warm spring at a confluence, each maintaining its thermal properties. These attributes make the spring a tourist attraction in Nigeria. Research suggested that the warm spring has a temperature of about 70oC at the source and 37oC at the confluence.
9. Yankari National Park
Yankari National Park is a beautiful and enormous wildlife park located in Bauchi State. It is home to several natural warm water springs, as well as a wide variety of flora and fauna. Yankari National Park is arguably the most popular tourist attractions in Nigeria.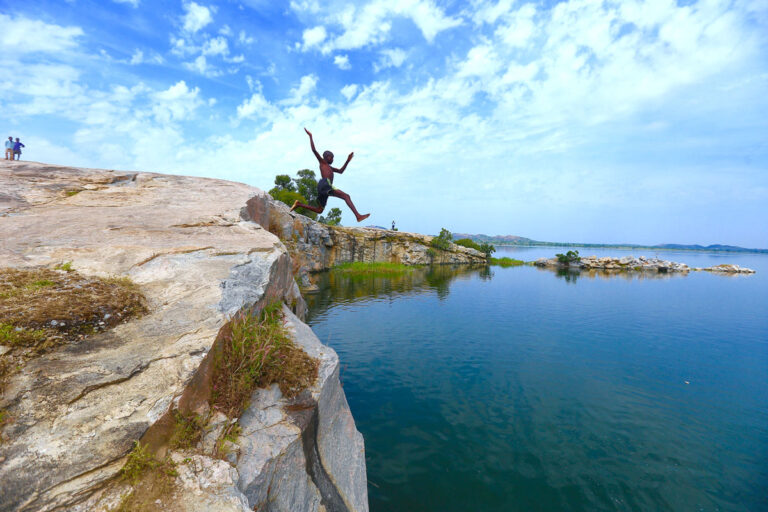 Yankari National Park is a large wildlife park located in the south-central part of Bauchi State, in northeastern Nigeria. It covers an area of about 2,244 square kilometres (866 sq mi) and is home to several natural warm water springs, as well as a wide variety of flora and fauna. Its location in the heartland of the West African savanna makes it a unique way for tourists and holidaymakers to watch wildlife in its natural habitat. Yankari was originally created as a game reserve in 1956, but later designated Nigeria's biggest national park in 1991. It is the most popular destination for tourists in Nigeria and, as such, plays a crucial role in the development and promotion of tourism and ecotourism in Nigeria. It is also one of the most popular eco-destinations in West Africa
10. Obudu Mountain Resort
Obudu Mountain Resort (formerly known as the Obudu Cattle Ranch) is a ranch and resort on the Obudu Plateau in Cross River State, Nigeria. It was developed in 1951 by M. McCaughley, a Scot who first explored the mountain ranges in 1949. He camped on the mountaintop of the Oshie Ridge on the Sankwala Mountains for a month before returning with Mr. Hugh Jones, a fellow rancher, in 1951. Together with Dr Crawfeild, they developed the Obudu Cattle Ranch.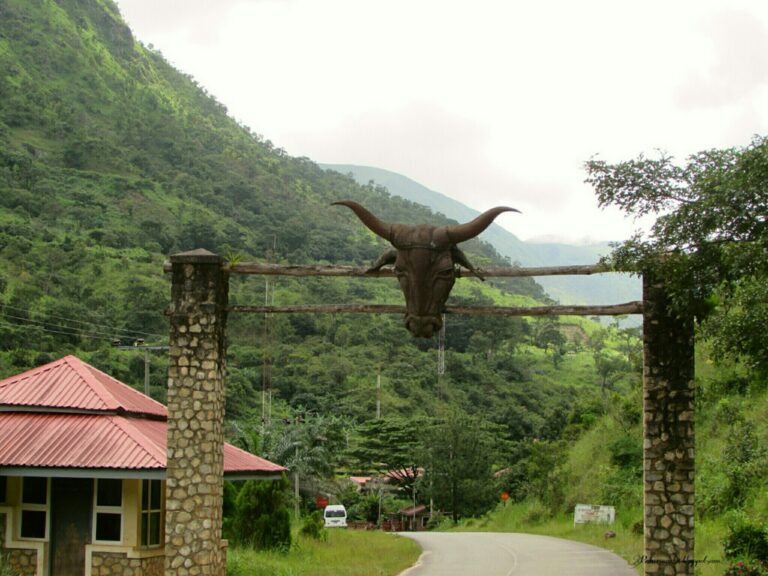 The resort is found on the Obudu Plateau, close to the Cameroon border in the northeastern part of Cross River State, approximately 110 kilometres (68 mi) east of the town of Ogoja and 65 kilometres (40 mi) from the town of Obudu in Obanliku Local Government Area of Cross River State. It is about 30 minutes drive from Obudu town and is about a 332 kilometres (206 mi) drive from Calabar, the Cross River State capital.
11. Ngwo Pine Forest
If you are a a lover of picnic, this place is just for you.The Ngwo Pine Forest a pine forest near the center of Enugu. Here visitors are provided with a relaxing shade to enjoy the refreshing breaths of air and wide stretches of beautiful greenery.
12. New Afrika Shrine
Ever heard of Fela Kuti? Well this place is all centered around him. The New Afrika Shrine is an open air entertainment centre located in Ikeja, Lagos State. The New Afrika Shrine is the replacement of the old Afrika Shrine built by Fela Kuti in 1970 until it was burnt down in 1977.
The New Afrika Shrine showcases photos and statues of the legendary Fela and music performances from top Nigerian artists. On July 3rd, 2018, French President Emmanuel Macron visited the New Afrika Shrine and pre-launched the Season of African Cultures 2020 in France.
13. Millennium Park
Located in Abuja, The Millennium Park was inaugurated by Her Majesty Queen Elizabeth II of the United Kingdom on 4 December 2003. The Millennium Park is the largest in Abuja. Its vast greenery and Italian architectural design is a sight to behold.
14. Oshun-Osogbo Sacred Grove
Located in the city of Osogbo, Osun State,this is the only tourist destination in Nigeria that has sacred shrines, sanctuaries, sculptures and art works that are created in the honour of the goddess of fertility, Osun.
15. Ogbunike Caves
Ogbunike Caves is located in Ogbunike, Anambra State. This place is an idea tourists destination. There are 317 steps that need to be used to descend down to the caves.
16. Nana Living History Museum
The magnificent national monument of the Nana Living History Museum is situated in Koko in Warri, a museum that was built by a powerful 19th century business man, Chief Nana Olomu Ebrohimi.
17. The Ancient Nok Settlement
From Jaba, Kaduna state, the antiquities from the Ancient Nok Settlement are seen in galleries and museums across the world. This little archaeologists' masterpiece is a place you need to see in your lifetime. It was here that the Terracotta figurine was discovered in the world.
18. Port Harcourt Tourist Beach
If you are looking for a destination where you can unwind your self from the bustling life of a city; Port Harcourt Tourist Beach is where you should be.
19. Tinapa Resorts
The charm of Calabar mingled with the taste of its modern facilities makes Tinapa Resort a magnificent place to visit.  From a  a mini amphitheater, to a casino to movie studio where most Nollywood movies are shot, Tinapa Resort is a place that will mesmerize you.
20. Abuja Arts and Crafts Village
Abuja Arts and Crafts Village is located at the Central Business District in Abuja , behind the Silverbird Cinema. There are lots of artefacts and handicrafts here for visitors to see and even buy.